Barewire's Heads Up Poker Player Profile

Welcome to Barewire/Krab42's player bio page. Here you can find out information about the heads up specialist.
Quick Stats

Started Playing HUSNGs: Early 2010 (Poker: 2005)

Poker Handle: Krab42 (PokerStars, Full Tilt, Absolute Poker, Merge), Barewire (Cake)

Birth Year: 1989

Went Broke on the Way Up: Once on initial $200 deposit

Secrets to Success: Postgame study to improve in game decision making

Barewire's Strengths: Heads up cash, deep stack HUSNG

Barewire's Weaknesses: Short stack HUSNG

 Beginning

Barewire found poker by playing home games with classmates in a summer program at Stanford in 2005.  He continued to play with high school friends in the summer of 2006, some of the same friends that would later lead him into online poker.

 Barewire started playing online poker on his Krab42 alias in August 2007 when he turned 18.  His main game of choice was 45 player SNGS on Full Tilt.  After some moderate success, he began playing 50NL and 100NL 6 max cash games in mid to late 2008.
In late 2008 Barewire found heads up cash, which then became his primary game and still is today.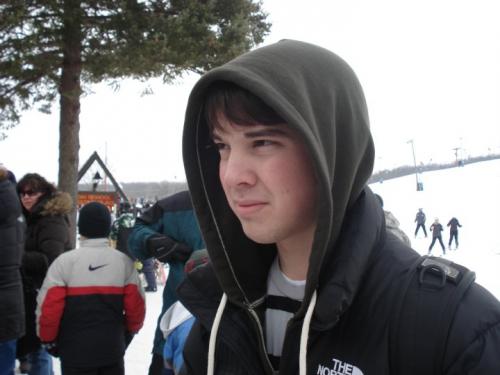 (above) Measuring Up - Barewire Eyes Up a Couple of Scrubs

Heads Up SNG
In early 2010, Barewire branched into heads up sngs.  He initially felt they were easy games and that many of the regulars had big leaks that could be exploited.  He then lost around $6,000 at the $100-300 levels before discussing the strategy of the games with many top thinking players such as spamz0r, mersenneary, mjw006 and nathan.  At that point he realized that a lot of the regulars actually made a lot of very good decisions at the less than 50bb effective stack size area.  He would later go on to outline some common misconceptions that many players have coming into heads up sngs, in his Heads Up Cash to Heads Up SNG video series he did with Skates.
While Barewire primarily considers himself a heads up cash specialist and heads up sng deep stack player, he has since strengthened his end game and preflop ranges, two of his self admittedly major problems early on.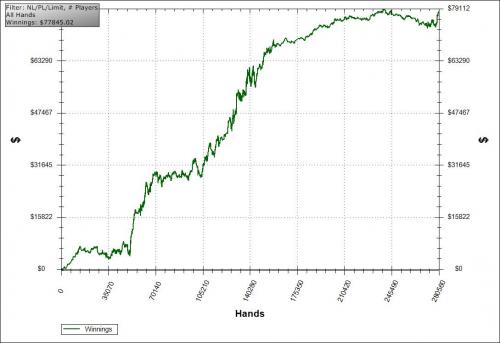 (above) Heads Up Graph - Barewire's Lifetime Heads Up Graph
Coaching
Barewire had built up a solid reputation as a strategy poster on the twoplustwo heads up nl forums and starting in the summer of 2009 he began coaching heads up cash players, the bulk of which played 50-200NL levels.  By early 2010, he felt he was spread pretty thin, between school, coaching and forum posting he rarely had time to play poker.  He was inspired to write a "Pooh Bah" post about his experience.
Barewire continues to coach heads up poker players of all types today with good reviews.
School and Trading
In June 2010, Barewire began work at a small proprietary trading firm in Las Vegas.  He also played poker full time and enjoyed some of his best results up until that point, with several five figure months.  He had a successful five month stint trading as well as playing both live and online poker, and became a HUSNG.com instructor in October 2010.  From October 2010 to January 2011, Barewire had the most successful stretch of his poker career, winning an estimated $50,000.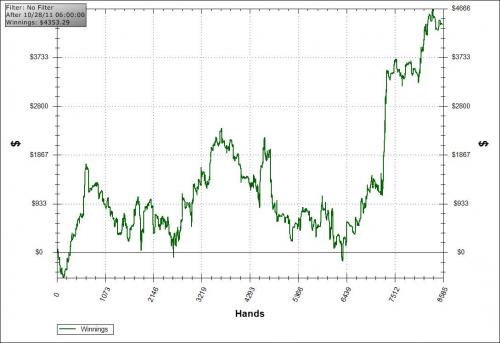 (above) Halloween Weekend - A Nice Weekend For Barewire
2011
Barewire went on to graduate in March 2011, with a degree in economics and a minor in statistics from the University of Chicago.  He made a trip in the spring to Las Vegas and decided he would play poker full time for the near future.  After Black Friday, Barewire abandoned plans for a grind office with a friend and decided to rent a house in Toronto for 6 months, reevaluating in the winter of 2011.  He would first spend an unsuccessful month at the 2011 WSOP.
Barewire has been playing on PokerStars and other non US facing sites since late July 2011 and has been primarily playing games at 200NL and below.