Olivier "livb112" Busquet
Heads Up Poker Player Olivier "livb112" Busquet's Profile and Resource Page
This page contains a biography full of information about Olivier, as well as links to many of his interviews over the years. 
Quick Stats

Started Playing HUSNGs: 2006

Poker Handle: livb112 (Full Tilt), Adonis112 (PokerStars)

Birth Year: 1981

Went Broke on the Way Up: No

Secrets to Success: Dedication to craft, fearless competitor

Olivier Busquet's Strengths: Competitive spirit, creativity

Olivier Busquet's Weaknesses: Tilt control
Early Days
Olivier Busquet stared his poker career by playing 6 max cash on Party Poker.  As he moved up in stakes, Olivier started playing more tournaments.  "I started with 6 max cash, but the games got tougher as I moved up.  I was playing underrolled and tilting was very expensive.  I started playing more MTTs, but I hated being locked to my computer for such long periods of time."  That's when Olivier found heads up sngs.
Olivier jumped into heads up sngs in 2006, starting at the $100 level.
Tilt
Olivier Busquet's tilt has been well documented in the poker community.  In a 2009 2p2 interview, Olivier was forthcoming about his tilt, where it comes from and the steps he's taken to eliminate it.  "I do show my opponents respect most of the time, but in the past when I've lost I have reacted poorly," he said.  "I have asked the sites I play on to take away my chat since I have proved unable to control it - though I've tried."  He continued, "Most of my chat has nothing to do with my opponents and is just me projecting my own frustration outwards.  To anyone that has taken my rants personally, I genuinely apologize, but don't feel that guilty since tilt almost always accompanies my rant and the receipients of my beratings have usually gotten more than their money's worth.  Chat serves an unfortunate but essential function in a negatively reinforcing cycle that will not be able to repeat itself now that I can no longer chat."
Heads Up SNG Dominance
By 2009 Olivier had played 36,000 heads up sngs, mostly single tabling.  Without taking more than three days off in a row, he had turned into a very consistent professional.  Olivier cites growing up in a house where both parents worked 50 hour work weeks for 30 years as the foundation for his work ethic.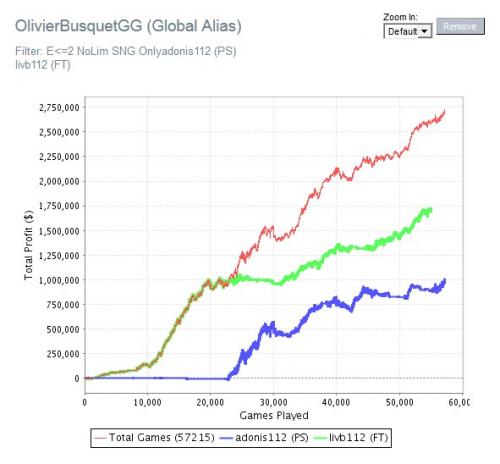 (above) Dominance - Olivier has the most lifetime profit of any HUSNG player.
Thoughts About Other Professionals
Olivier Busquet has publicly shown respect for several other heads up professionals over the years.  He has said that he believes Dibasio is incredibly good at what he does and that he would not be able to match his multi tabling, grinding, disciplined game selection approach to heads up sng poker.
Olivier noted in 2009 that he felt some of the toughest players he played that year were bballer88, mientjeuh and Big Tuna JKo.  At the same time he also mentioned that he felt two of the best heads up sng regulars were whassuuuppp and Croixdawg.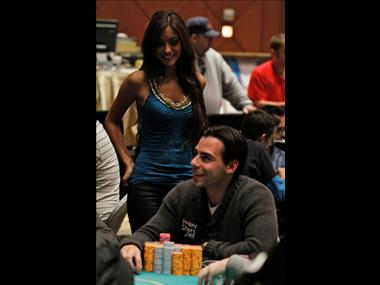 (above) Live Circuit - Olivier at a live tournament, his wife in the background.
From Heads Up Specialist to Poker Celebrity
In 2009 Olivier Busquet won the Borgota WPT Poker Open in dramatic fashion, setting a record in the process by coming back from a 20-1 chip lead during heads up play.
Olivier was also featured on NBC's Poker After Dark television program in early 2011.  That appearance was followed by an invitation to play in the NBC Heads Up Poker Championships in March 2011, where Olivier would eventually make it to the final eight, where he was bested by 2010 WSOP Main Event Champion Jonathan Duhamel.  Olivier was also a guest commentator during the 2011 Main Event daily broadcast, receiving much fanfare for his in depth strategic analysis.
HUSNG Interview
In August 2011, Olivier did an hour long interview with HUSNG.com.  During the interview, he discussed everything from dealing with poker vs college decisions, super turbos, black friday as well as regulars Isildur, H2Olga and Bjoerni.
Other Interviews
Olivier has done many interviews at the request of poker media.  Below is a list of links that cover many of those interviews:
August 2011 HUSNG.com Video Interview (MP3 Version can be found here)
September 2011 PokerNews Audio and Text Interview
September 2011 GipsyTeam Video Interview (Part 2 here)
August 2011 GosuGamers Text Interview (Part 2 here)
August 2011 PokerInside Text Interview (Part 2 here)
July 2011 ESPN Audio Interview
June 2011 PokerNews Video Interview
April 2011 PokerStatic Video Interview
March 2011 TwoPlusTwo Audio Interview
September 2010 CanadaPoker Youtube Video Interview
August 2010 CardPlayer Youtube Video Interview