Heads Up Poker Player Serkules Profile
Welcome to Serkules poker profile.  Here you will find information from the hyper turbo specialist himself. 
Quick Stats
Started Playing HUSNGs: Late 2006
Poker Handle: Serkules (PokerStars, Full Tilt)
Birth Year: 1988.
Birthplace: Germany
Went Broke on the Way Up: Never.
Secrets to Success: Confidence, work ethic.
Serkules Strengths: Mindset and fast, accurate adjustments.
Serkules Weaknesses: Chasing losses, quitting while ahead.
Fast Start 
Like many of today's professionals, Serkules started playing poker with his friends.  "Just drinking beers, chilling in the garden with friends, at the 5 Euro sit and gos," says Serkules.  He had some initial success, supplemented by some live poker profit and freeroll profit and was playing as high as $20s when he got into heads up sng poker.  "One day I tilted, I didn't get in the money for about 20 games in a row, and I just decided to search for something new.  I found heads up sngs and won about 14 in a row.  I was like 'wowwaaawwaa,' this is my game!" said Serkules.  "I love to play more hands in a short period of time and in heads up poker you get to constantly put more pressure on your opponents."
Heads Up SNG Poker
Shortly after finding heads up sngs, Serkules cashed out just under half his poker winnings (about $2,000) and deposited it onto Full Tilt, in order to play heads up sngs.  He grinded up without busting, and by early 2010 he had reached the $200 regular speed and turbo buyin level.  At that point, he decided to drop out of university, where he was studying economic engineering for almost two years prior.  "It was kind of a gut feeling," said Serkules.  "I don't want to work until I'm 65 for somebody else every day.  I hate routine, ordinary things, who doesn't?  I love being spontaneous and don't want a set plan." 
His outlook matches his spontaneous attitude.  "My life for the next ten years, I will just go with the flow, not knowing what will come next," he says.  "Since I was a little kid I planned to start my own business and I've searched for new possibilities and ideas that really lead to an independent and relaxed lifestyle, which poker currently gives me.  But this is just the start, and I'm looking for some new things in the future to put my heart into.  Even if I were to go broke, I would rather wash dishes than kiss somebody's ass to get a higher salary.  I just enjoy life as best I can, where poker is right now for me is a nice side effect, a nice benefit to me.  Money makes many things easier, but I don't need it for my happiness.  So I'm just doing my own thing through good and bad times."
Super Turbos
As of August 2011, Serkules had accumulated an estimated $700,000 in profit from poker, most of which has come from heads up sngs.  A strong mentality and constant focus are two of the skills he cites that have given him this success.
"I've never deposited my own money, so I always figured worst case I would end up breakeven and either go back to university or wash dishes," he laughs.  Serkules continues, "But like everybody, I did go through some reg wars coming up.  When I got into the $50 level, I remember being hunted by moca choca, jasonc6 and notgoingnewhere.  I went crazy, I timebanked them down.  But today we are all really good friends, especially mocha choca, who is one of my closest friends."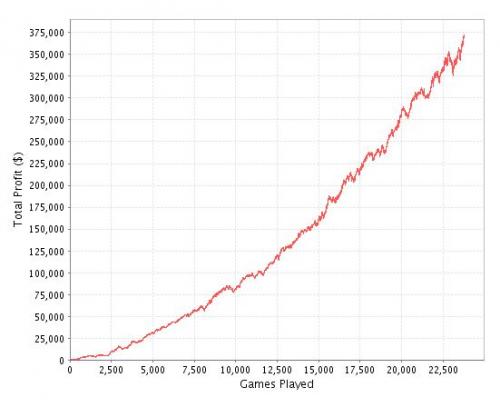 (above) Consistency; Serkules Full Tilt Graph
Regulars, Friendships
Serkules likes to travel, often with other poker players.  In 2010, Serkules took a trip to Indonesia with wowKKa and nicelQ25, where they visited Cog Dissonance.  "We visited during the European winter and it was one of the best holidays ever.  I can recommend Bali as a very beautiful place.  Add in that Cog was a very nice, chilled and cool guy to everybody, and the trip was just great," he said.
But his trips aren't just limited to poker players.  While visiting nicelQ25 in Romania, Serkules believes he made an important discovery.  "If you think you know where to find the most beautiful girls in the world, Romania will probably change your opinion," he says. 
His longest and strongest relationship in poker is with his best friend, "wowKKa," who brought Serkules into the poker world and has been through all the ups and downs with him.  He's also met players such as Pistons87, jacktheshipper, betterways and valuelol.
"I have seen so many beautiful places and met so many nice people through poker that I really get a smile on my face thinking about it," says Serkules.
Post Black Friday
While Black Friday did not immediately impact him too much, Full Tilt's closure in the following months hit many non Americans hard, including Serkules.  "We Europeans are waiting for a solution to fix this mess and are left wondering what will happen to our bankrolls," says Serkules in August 2011.  "Even though I have a high % of my bankroll on Full Tilt, I try not to think about it, because I cannot change anything right now.  I try to stay optimistic and I do still believe we will get our money back.  It's just a matter of time though, I'm starting from scratch again basically, on PokerStars this time."
As of mid August 2011, Serkules had been playing on PokerStars for about 1.5 months.  He had profited over $100,000 in this time, mostly playing hyper turbo heads up sngs.
Hyper Turbo Video Pack and 2012 Start
Serkules finished off 2011 with impressive results and started 2012 no differently. He made over $300,000 in January of 2012, including over $150,000 in MTT winnings. Serkules was also one of three hyper turbo professionals to review Chadders Hyper Turbo Video Pack prior to release, calling it "An excellent video series for aspiring hyper turbo pros."