Below are some of the best places to find stats on players. Some are superior to others, but if one site has a player blocked, another may not have them blocked and the data can still give you a better idea about your opponent or inquiry than you would get with no information at all.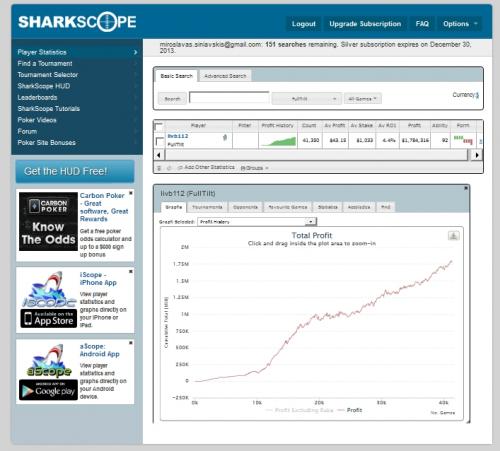 1. Sharkscope.com - Most reliability, most sites tracked, longest running too I believe. Best breakdowns in stats and filtering options and of course, the best leaderboard. Charles Hawk uses Sharkscope to track his weekly results for the High Stakes Report.
2. MacroPoker.com - Macro collects there own stats and I have found a few people not blocked on Macro that are blocked on Sharkscope. Relative newcomer, but a lot of press. They sponsor the HUSNG traffic report found on the right bar of our main page.
3. PokerOptimizer.com - Inferior stats to Sharkscope, but it has gradually become more accurate. Filters have improved as well and it has an appealing layout. I mainly use this site if somebody has blocked or reset on Sharkscope and is blocked or reset on Macropoker as well. Only covers PokerStars.
4. Pokerprolabs.com - Their Top Shark tool provides stats most major non USA sites, as well as the Merge Network. I use this the same as PokerOptimizer, only when Sharkscope and MacroPoker don't provide relevant results.
If you know of any others (for SNGs), please post them in the comments and I'll add them to this list.