March 20th, 2011 - Welcome to the HUSNG Power Rankings.
Our panel of judges has combined to help rank the best HUSNG players in the game today.
The panel includes professional HUSNG players livb112, h2olga, heybude, mersenneary, primordialAA and walchy.
For more information on how the rankings have been determined, check out our explanation of HUSNG power rankings.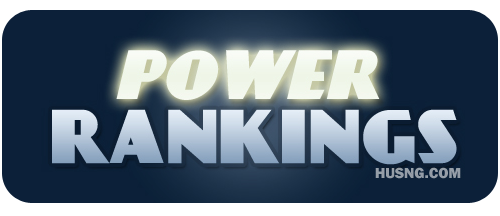 Rank 
Name
Points 
Estimated HUSNG Profit 2011
Comments
1
livb112
 6
$357,540 (livb112 on Full Tilt, Adonis112 on PokerStars)
"He's just the best...  You can't argue with 300k profit in 2011 and 2.4 million lifetime" 
2
H2olga
4.2
$83,684 (H2Olga on Full Tilt, Lotte Lenya on PokerStars)

"Adjusts very well, thinks on a high level... Fearless player... Puts players in real tough spots"

3

R-Quaresma
3.3

-$76,559 

(R-Quaresma on Full Tilt, SkaiWalkurrr on PokerStars)

"Question: What does R-Q call losing 400k in EV? Answer: A breakeven stretch."

4
bballer88
1.5

-$22,805

* (Bballer88 on Full Tilt unavailable, Jovial Gent on PokerStars)

"Consistent high level thinker... He never makes mistakes, it's an attitude that I strive for."

5
iftarii
1.3
$61,355 (iftarii on PokerStars, iftarii on Full Tilt)

"Solid is as solid does... By far the best hand reader I have ever played against."

5
whaassuuppp
1.3
$48,965 (whaassuuppp on PokerStars)

"Varies his play well, unique style, very consistent."

7
iCeVeNoM
1
$73,175 (iCeVeNoM on PokerStars)

"Creative... Has good feel for the game."

7
shortsharpshock
1
$38,677 (shortsharpshock on Full Tilt, carryhero on PokerStars)

"The epitome of a grinder... The nit with tricks bounces back after a rough January."

9
riyyc225
.8
 

-$71,254 

(riyyc225 on Full Tilt)

"Very solid... Incredible talent... Makes livb tilting look like Mother Theresa... Runs worse than anyone in 5ks."

10
pistons87
.6
$46,788 (pistons87 on PokerStars, ftpballerstatus on Full Tilt)

"Let's just say I have no intentions of 4 tabling him again."

10
OLD TIME GIN
.6
$4,135 (OLD TIME GIN on PokerStars unavailable, quantum leaper1 on Full Tilt)

"Very aggressive 3 bettor... Not afraid to play regulars at higher stakes."
Also receiving votes were HeyBude (.4 pts), Mersenneary (.4 pts), bigredak (.2 pts), luckychewy (.1 pt)