Hyper Turbo HUSNG Power Rankings
September 30th, 2011 - Welcome to the Hyper Turbo HUSNG Power Rankings.
This edition's panel of judges includes some of the best heads up players in the game today: livb112, Bjoerni89, Lotte Lenya, Serkules and SkaiWalkurrr.
Judges each gave their top five choices, discounting themselves, and corresponding points (5 for 1st, 4 for 2nd, etc.) were totaled, divided by the potential number of votes and then doubled. One judge gave four votes instead of five.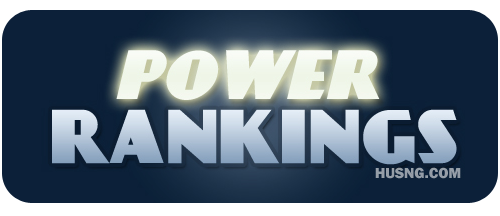 Rank 

Name

Points 

Profits (Hyper and Super Turbo)

Comments

1
SkaiWalkurrr

 8.5

$829,060 (SkaiWalkurrr on PokerStars,R-Quaresma on Full Tilt)

"Plays like a computer... makes no difference 1 table or 8 tables... hard to find a +EV spot because Skai is already all in...takes aggression to another level"



2
Serkules

 6.5

$612,063 (Serkules on PokerStars and Full Tilt)
"Master of game flow... has great feel... always right... creative + solid... he doesn't stop winning!"


3

Lotte Lenya

 5


 

$238,357

(Lotte Lenya on PokerStars, H2Olga on Full Tilt)
"Capable of long battles... takes a lot to earn his respect... great thinker"

4
Adonis112

 3.5

$134,515 (Adonis112 on PokerStars, livb112 on Full Tilt)

"Wish he still disliked these... he's just as deadly in this format"

5
berndsen12

 2

N/A (berndsen12 on PokerStars and sanderb12 on Full Tilt unavailable)  
"Tough to play... really attacks weak hand ranges well... extremely dangerous when he's in his zone.. deviates from standard play"

5
Moca Choca

 2

$267,619 (Moca Choca on PokerStars and Full Tilt) 
"Good intuition... great postflop play out of position... very good at adjusting to each individual opponent... brings horror to the fish"

7
trader0811

 1.6

$10,816 (trader0811 on PokerStars and Full Tilt) 
"Very loose aggressive player"

7
WhatIsICM

 1.6

$374,150 (WhatIsICM on PokerStars, 16colordeck on Full Tilt)

"Plays well all around... doesn't ever seem to make a large mistake... positive attitude"

9
riyyc225
 1.2

$69,135 (riyyc225 on Full Tilt) 
"Wins the battle of the chat"


10

Jossel2008

 .8

$100,469

(Josel2008 on PokerStars JoselTheKiller on Full Tilt)

 
"Fearless... played everybody"

Also receiving votes were iseeyouthrough (.4 pts) and Mersenneary (.4 pts).
Visit our original HUSNG Power Rankings from March 2011.