A few days ago, Dan "mrGR33N13/riyyc225" Colman became the first hyper-turbo player in online history to win more than $1,000,000 before rakeback, in a calendar year. In his case, he managed to do this in a mere 9 months
2013 combined stats (PS+FTP)
Interview
Charles Hawk: First of all congratulations on being the very first hyper-turbo player to win over a million in a calendar year... – that's amazing achievement! :) How does that make you feel?
Dan "mrGR33N13/riyyc225" Colman: It's pretty cool, not gonna lie.  I was really looking forward to seeing 7 figures of profit next to my name on the sharkscope leaderboard.


Charles Hawk: In 2012, you were not so visible on our radar... Did you start grinding hypers only this year?
Dan "mrGR33N13/riyyc225" Colman: Ya, but I had a pretty solid foundation from playing turbo heads up sngs and heads up cash pre black friday.

It's funny actually… Summer of 2012 I was making plans to go back to college and give up poker, but I messed up my applications and then ultimately decided to give poker one last go around.


Charles Hawk: You were at a blistering pace in the first 10 weeks of the year when you took down 410K from your opponents but after that your pace slowed down a little. Was your game or routine of grinding any different then compared the past recent months?
Dan "mrGR33N13/riyyc225" Colman: Ya, it was winter in Montreal and I was playing every single day. After that, I moved to Rio de Janiero where I definitely didn't play as much, and now I am back in Montreal in the summer when the weather is nice so my grind isn't ideal here, but it's still pretty good.  I've also made a lot of trips to Vegas, New York, and back home in Massachusetts, as well as 1 trip to Sweden for a week.


Charles Hawk: Tell me something about your experience in Rio. Will you be there next year?

 
Dan "mrGR33N13/riyyc225" Colman: Rio was great, I really enjoyed it.  Right now I am studying Portuguese and plan to be going back there for the majority of next year.  Potentially the whole year.

If you're a young guy with little responsibilities and financial freedom, it's probably a leak to not be living in Brazil.
Dan "mrGR33N13/riyyc225" Colman: My grind station: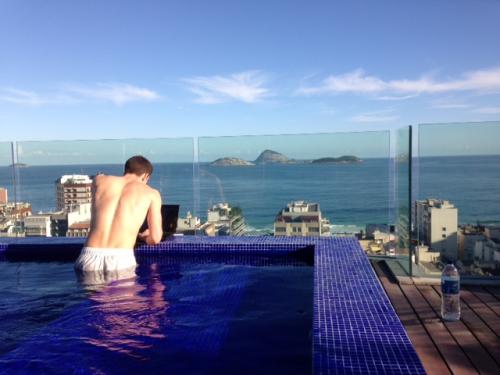 Charles Hawk: To use your own words; Do you still wake up every morning 'itching to play'?

 
Dan "mrGR33N13/riyyc225" Colman: Yes.  It's a problem.  It is still really good for making money currently for me; but as far as being a productive person with other goals, it is something I am looking to change.

At the same time, I don't see poker as being a sustainable source of income a few years down the road.  Its like a gold rush, I have one of the best spots in poker to mine for gold.  I might as well make good use of it.


Charles Hawk: But if we look at players like FisFarfar or Olivier Busquet... - seems like it could be a gold rush for many many years?


Dan "mrGR33N13/riyyc225" Colman: I don't think it will.  People have been making more money than the previous year in heads up sngs for past 4-5 years, so who knows.  However, if/when poker gets regulated in America, I could see another poker boom happening.


Charles Hawk: Do you think your edge against the average HUSNG player is as prononced as it was at the beginning of the year or do you believe the skill gap is getting smaller as players are improving at a faster rate?

Dan "mrGR33N13/riyyc225" Colman: Yeah, I think it's just as big.  It's really all about action and the sites finding new losing players to deposit money.
Charles Hawk: So quantity of winning High Stakes regs is increasing but action remains the same/decreasing little by little?

 
Dan "mrGR33N13/riyyc225" Colman: Correct.


Charles Hawk: I must say that during my work on High Stakes Rail you are one of the biggest trashtalkers. Is it a strategy helping accumulate rematches?

 
Dan "mrGR33N13/riyyc225" Colman: Ya, it's good for getting rematches but it also makes me laugh and allows me to enjoy the grind a little bit more.  I recognize that it is pretty immature and it's something I may look to stop doing soon.


Charles Hawk: How much of your 1.2 Million do you credit with your trashtalking/trolling skills? What percentage of rematches do you attribute to your thrashtalking?


Dan "mrGR33N13/riyyc225" Colman: Maybe just the 80,000$ I won off mtvdeuem.


Charles Hawk: Haha :D How are things between you two now? As I remember, you warned him to better not to meet you at the WSOP?

 
Dan "mrGR33N13/riyyc225" Colman: I was only joking with everything I said to him.  I don't talk to him much these days, I am not sure if he still plays.

 
Charles Hawk: Yes, he does :)


Charles Hawk: Your most unprofitable opponent is VbV1990 (well, maybe Ike Haxton if we put sidebets into account) but still... What sorts of challenges does VbV1990 throw your way compared to the rest of your opponents?


Dan "mrGR33N13/riyyc225" Colman: He plays an unconventional style, he does some things good and some things bad.  He has also run very good in every type of spot imaginable.  I believe I will win it all back and then some.

 
Charles Hawk: And have you played with Pokerstars PRO Leo Fernandez? He is losing heavily to everyone. What's his deal?


Dan "mrGR33N13/riyyc225" Colman: I don't believe it is Leo playing on his account.  Close to 100% positive it is Fabrizio "sixthsense19" Gonzales.  He is banned on stars and I believe this is the new account he is playing on.  He is not terrible, but he isn't going to be a winner without game selecting.
Charles Hawk: Imagine that God gives you 30% of 5 hyper-turbo and 5 turbo husng player's yearly profits. Whom would you choose?
Dan "mrGR33N13/riyyc225" Colman: Is he giving me 30% of their profit himself, or is he taking it out of their profit so now they only make 70%? :D
Charles Hawk: 30% of their profit himself, but if that's changing the issue, I would like to know :D
Dan "mrGR33N13/riyyc225" Colman:  Hahah, ok. For hypers I would take Serkules, SkaiWalkurrr, killuifiplay, Lotte Lenya and FisFarfar; and for turbos Olivier "Adonis112/livb112" Busquet, Helio TYF, Ike Haxton, Skaiwalkurrr and VbV1990
Charles Hawk: I have a question by a husng.com member terror of rudi: "Dan was taught by Oliver Busquet. Does Dan ever plan to 'pay it forward' and teach someone like Oliver taught him?"
Dan "mrGR33N13/riyyc225" Colman:  Ya for sure.  I always enjoy helping people out and seeing them improve their situation. I don't know if I would ever reach out to a random person on the rail like Olivier did for me, but you never know. To all the railbirds reading this, the key to my heart is to be a funny troll.
Charles Hawk: Actually I don't know this story. Was it in a live tournament?
Dan "mrGR33N13/riyyc225" Colman:  No, online hu sngs back in 2007.  I would show up on his rail every now and then and just call out his hands in chat, and then talk some shit on the side.

I had actually won about 1000$ in hu sngs before dusting it off in cash games so I had a winning Sharkscope.  Liv sharkscoped me and saw that I was a winner in hu sngs and to go along with me actually being correct a large percentage of the time when calling out his hands, he gave me his AIM.

Then he coached and staked me from there.
Charles Hawk: Thanks for the interview.

Dan "mrGR33N13/riyyc225" Colman:  My pleasure.