Merge Adds Guaranteed Heads Up Tournament; Prop Bet Updates
Merge New 8k Guarantee MTT Debuts Sunday
The Merge Network has added a $8,000 Guaranteed, $55 + 5 buyin to their Sunday tournament lineup. The new heads up tournament will take place at 17:00 Eastern US Time (16:00 Server Time) and will feature 5,000 stacks and 10 minute blind levels (20-40, 30-60, 40-80, 50-100, 60-120 and 80-160).
One Prop Bet Finishes, Another is Heating Up
Over on 2p2, an interesting "EV line" prop bet just finished up between emotionx and hyi_vam. It's worth taking a few minutes out of your day to read up on.
Plauzee recently announced on his blog that mtvdeuem had agreed to a prop bet with the goal of earning $50,000 in 30 days from $200 and $300 hyper turbo games. Currently on day 11, mtvdeuem is close to pace, with roughly $18,000 in winnings. Privately, regulars have been talking about how astounded they are that he took this prop bet, and he's thus far been impressing observers with his successful start. HUSNG.com will continue to follow this interesting and ambitious prop bet. Below you can view mtvdeuem's graphed progress.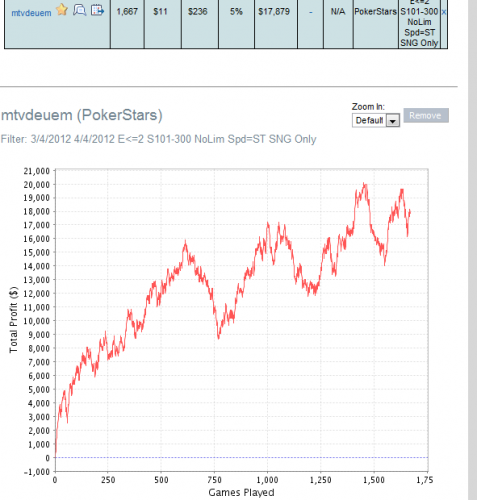 Update - mtvdeuem bet originally stated "50 days" to complete. The correct amount of days, 30 days, has been updated in the news post.