SkaiWalkurrr's Poker Player Profile
Welcome to Hyper Turbo specialist Skaiwalkurr's Poker Profile.  Here you will find information about SkaiWalkurr's poker career. 
Quick Stats
Started Playing HUSNGs: December 2009 (poker 2006)
Poker Handle: SkaiWalkurrr (PokerStars), r-quaresma (Full Tilt)
Birth Year: 1990
Went Broke on the Way Up: No
Secrets to Success: Passion for the game early on, natural mindset, discipline, bankroll management, humility.
SkaiWalkurrr's Strengths: Short stacked, short handed-heads up, multi tabling.
SkaiWalkurrr's Weaknesses: Deep stack HUSNG-HU Cash.
Starting Out
SkaiWalkurrr's first taste of poker was watching Rob Hollink versus Brandon Schaefer in the 2005 EPT Grand Final.  "I proceeded to read and watch everything about poker that I could get my hands on," says Skai  "I played every freeroll I could find, I even downloaded every episode of the World Poker Tour and World Series of Poker that I could find."
After about a year of digesting poker shows and playing freerolls, SkaiWalkurrr deposited $50 and started grinding 1 cent - 2 cent and 2 cent - 5 cent no limit games, making a very small amount of money.  He took $50 out of that and deposited onto Full Tilt, deciding to play cap games.  "Even though I was very new and only played the 5 cent - 10 cent level, I knew cap games were for me.  I knew the impact of the short stacks, the implied odds hands for example, and just ran like god."
Indeed, SkaiWalkurrr was at the $5-10 blind level after only 3 months, without having had to move down a single time in that initial run.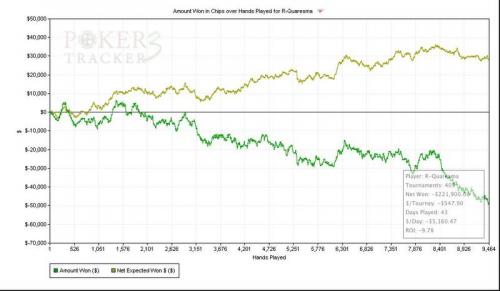 (above) Variance - SkaiWalkurr hits a -300k below expectation run in $5k buyin games.
Cap Game King
SkaiWalkurrr was extremely aggressive in taking shots.  During some shot staking struggles at $25-50, he decided to enroll in college, calling it "the standard thing to do."  But he dropped out after just two months.  "I didn't open a single book outside of school," said Skai.  He soon after had a bad run at levels as high as $100-200, dropping his bankroll from about $200,000 to under $20,000, but grinded it back up from there.
Super Turbos
SkaiWalkurrr initially only played regulars in heads up sngs for fun, only taking them up seriously after facing Heybude.  Eventually he found super turbos, and began to play those almost exclusively.  Between May 2010 and May 2011, he made about $600,000 in super turbos after rakeback, in about 25,000 games with an average stake of over $900.
After Full Tilt's closure, SkaiWalkurrr began playing hyper turbos full time on PokerStars.  From July until September of 2011, he had made about $95,000 in about 11,500 games.
In 2012 and 2013 SkaiWalkurrr has destroyed the hyper turbo games. 2nd only to Serkules in 2012, and 2nd to only mrGR33N13 in 2013, Rachid has set a new bar for "best in heads up poker."
(above) Amazing - SkaiWalkurr's SNG graph through June 2013.
Battles
SkaiWalkurrr prides himself on knowing when to quit an opponent, when to admit they are getting the best of him.  Nevertheless, he has faced a great deal of top opponents over the years.  1,228 games against skilled_sox (~$123,000), 100 games against Iftarii (~$50,000), 197 games against Berndsen12 (~$78,000), 121 games against Isildur1 (~$55,000) and 273 games against livb112 (~$63,000).